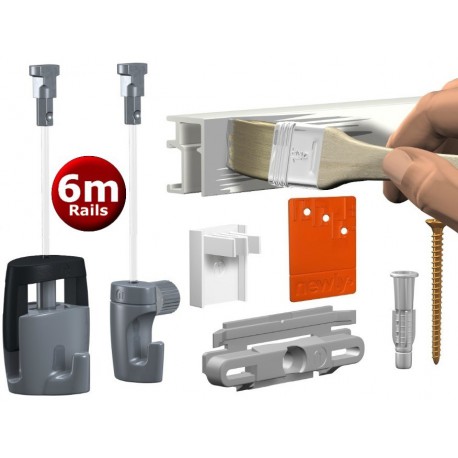 This is the smallest ceiling mounted rail in the world – included is a free jig!
This set contains three metres of rail and everything you need for a six metre hanging system with the Newly R10 Rail. A flexible hanging system can be integrated easily and quickly into your home with the Newly R10 Rail. In three simple steps you'll be able to attach the rail to the wall. By clicking or sliding the wires with hooks you can create a flexible suspension of your decorations.

This aluminum rail is 200 cm long and has a maximum weight-carrying capacity of 20 kg per metre. The Newly R10 wall rail is supposed to be mounted to the wall. This set contains 3 rails of 2 metres, 4 x 150cm Twister Perlon wires, 1 x H50 mini hook (5kg), 3 x H100 self-locking hooks (20kg), 4 x end caps, a drilling jig and 16 clips, screws and plugs – everything you will need.

Data sheet
Delivery time

3 business days

Mounting type

Wall mounting

Carrying capacity per meter

20kg

Rail width

12mm

Rail height

17mm

Screws per meter

3

Plugs per meter

3

Clips per meter

3

Power supply

No

Rail length

600cm