-10%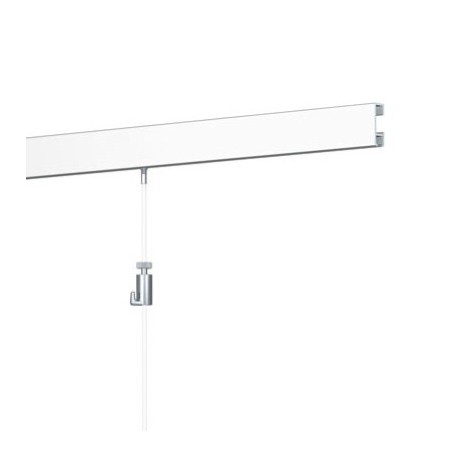 In your interior, you can integrate this flexible art-hanging system very quickly and simply with the Click Rail. In just three steps you can attach the rail onto the wall. By clicking-in, or sliding-in the threads with attachment hooks of your choice, you can create a flexible attachment of your decorations. This rail is 200cm long and has a weight-carrying capacity of 20 kg per metre. This Artiteq Click rail must be attached to the wall.
The picture rail is part of a total concept, the picture hanging system which, in addition to the rail, consists of hanging wires and hooks. All the Artiteq picture rails are made from a high-quality aluminium alloy that is either anodised or powder-coated. A picture rail may be mounted to the wall (flush against the ceiling or slightly below the ceiling), or on the ceiling itself. Depending on the type of rail, it is mounted using clips and screws and plugs or just screws only.
An Artiteq painting wall hanging system is attached to the wall using the Click & Connect system. The clips are attached to the wall with the help of plugs and screws. The rail is then simply clicked onto the clips, so that the rail is tightly mounted against the wall. This system facilitates the straight installation of a wall rail against the ceiling.

Data sheet
Delivery time

In stock

Mounting type

Wall mounting

Carrying capacity per meter

20kg

Rail width

8.5mm

Rail height

25mm

Screws per meter

3

Plugs per meter

3

Clips per meter

3

Power supply

No

Rail length

200cm