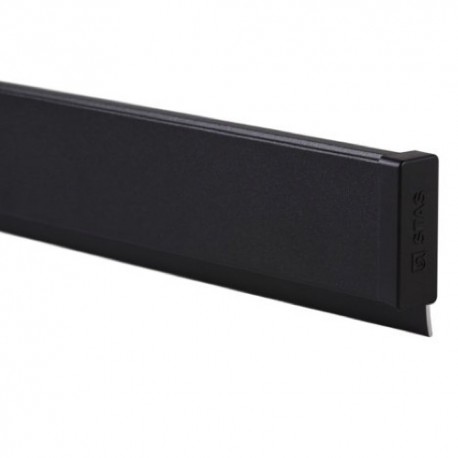 Papergrip ™ / different lengths / 5 kg load capacity
Wall mounting / various colours / in stock
Complete incl. Mounting and end caps
Ideal for clamping and changing papers
Present beautifully on the wall with Papergrip
The STAS Papergrip is one rail with two applications. It is namely an aluminium rail with a clamping strip on the inside. Thanks to this strip, papers and small posters can easily be clamped in the rail and can be removed again with one movement. In addition, the special rail edge makes it possible to place stiff paper types such as cardboard on top of the rail. The STAS Papergrip Rail is suitable for both thick and thin paper and can even clamp thin magazines up to 3.5 mm and laminated paper. The rail is made almost entirely from one component and can be mounted in various ways. The separate rail sections can moreover be connected to each other with a rail connector for creating a wall-wide suspension system. Thanks to the included STAS Papergrip end cap you can finish the rail beautifully and easily visually. This rail comes incl. The required mounting material.
STAS Papergrip ™ is the right choice for quickly and conveniently putting up greeting cards, photos and small magazines. Thanks to our many years of experience with suspension systems, we can give you personal advice about which type of rail fits best with your situation.
Optional: Click the specially designed STAS paper grip hooks on the rail to be able to hang small items such as keys.

Data sheet
Delivery time

3 business days

Mounting type

Wall mounting

Carrying capacity per meter

5kg

Rail width

12mm

Rail height

50mm

Screws per meter

3

Plugs per meter

3

Clips per meter

3

Power supply

No